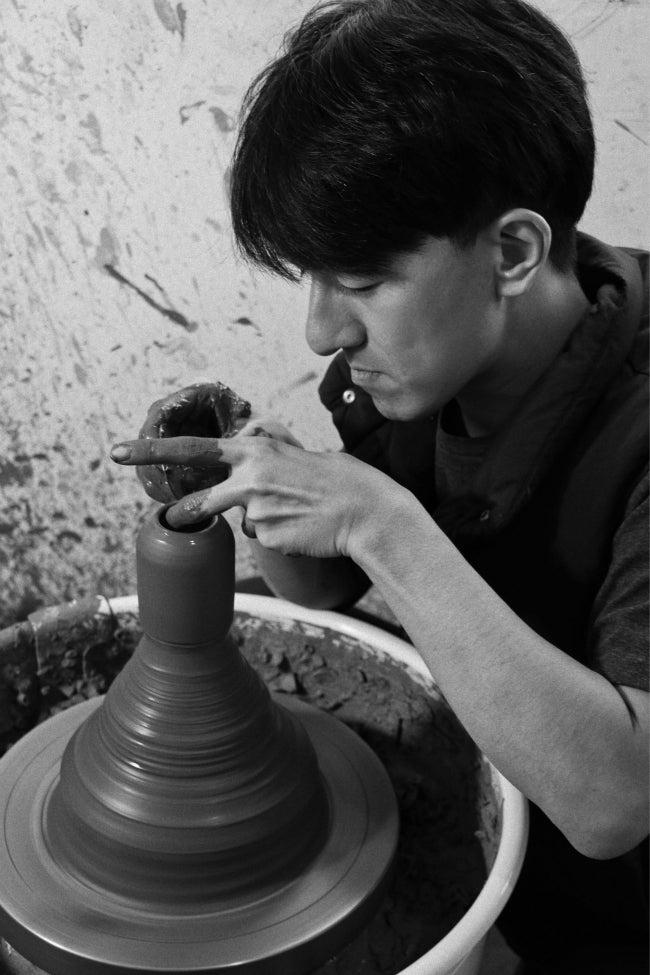 Yu is currently living and crafting teaware in Jingdezhen. Born in a sculpture making family, he grew up in a strong connection with the clay. However ,to some strict extent , he started to craft the pottery on his own since 2008 . When talking about the previous experiences, he immensely appreciates all of what he has gone through along the way, like studying further in Jingdezhen Pottery College, working as an apprentice from the scratch, co-establishing a studio with other potters and so on, all of which helped to hone his skills of wheeling , firing and making to the most extent.
Accidentally or inevitably ,Yu bumped into into the Zisha world in 2017, where he was shocked by  the soft plasticity of Zisha clay , and became passionate about using this clay at a new level. Instead of promoting sale points of zisha like scarcity ,age or source location which are over hyped currently in the market, he is trying to free himself from the rules and conventions in quest of refining the zisha teapot aesthetics on his own.
To throw away the dull forming criterion of zisha teapots,  Yu manages to form the irregular shapes by throwing the zisha clay instead of slaping as most of yixing zisha teapots are done, which helps to absorb trace amounts of tea flavors and minerals into teapots more easily. On the hunt for crafting stylish zisha teapots , he spent a lot of time learning and practicing the visual art with the zisha clay. Surprisingly, he created first-ever zisha teapots with two shades in one for single pot,  immersely opening a new door to the zisha teapots.

All significant characteristics from his zisha teapots are the results of time spent on learning and exploring the nature of the clay.Even though Yu has not been crafting zisha teapots like other 'expert' masters with gorgeous biographies showing their decades of experience, each Yu's teapot surely has a life of its own which we can tell easily from other zisha teapots in terms of their first-ever and outstanding look.
In Dec 2019, Yu had his first solo zisha teapot exhibition in Beijing 798 art gallery , one of the largest sought-after Galleries in China, where his works are immensely recognised by both visitors and experts. In May this year, Yu met and talked with Jack Ma ( a founder of Alibaba Group) as a presentative of young artists in Jingdezhen.

Currently ,Yu is working as an independent potter. He told to us that he approaches the pottery as a journey of shelf-discovery , a quest of simplicity and healing process. And he loves spending long time on crafting teaware silently in his studio , which he feels meditative (He is also an talented baker though, haha).
Check here to see Yu's works in the shop.